Tokyo General Information
Facts
Climate and clothing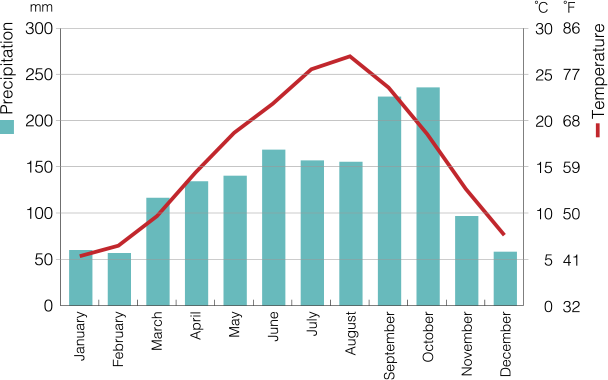 Average Monthly Temperature and Precipitation
Spring (March-May)
There may be days in March when you need a heavy jacket, but the cold eases considerably in April and by May it can be warm enough for short sleeves during the day. Peak cherry blossom season runs from late March through early April.
Summer (June-August)
The rainy season lasts from late June through around mid-July, with frequent rain and high humidity. After the rains, July and August usher in a steady stream of midsummer heat with temperatures over 30°C, including especially hot and humid days when the temperature rises above 35°C.
Autumn (September-November)
The temperature can rise over 30°C even in September, but both temperature and humidity begin to fall gradually. The peak season for viewing fall foliage starts in mid November. It is recommended to bring a heavy jacket when you come to Tokyo in November.
Winter (December-February)
Constant low temperatures make a jacket and coat indispensable, and it occasionally snows even in the city center.

Japan Meteorological Agency
http://www.jma.go.jp/en/yoho/319.html
Money, tipping
Currency
Japan uses yen (Japanese: 円, symbol: ¥, code: JPY). Coins come in 1, 5, 10, 50, 100, and 500-yen denominations while bills come in 1,000; 2,000; 5,000; and 10,000-yen denominations. As of July 2023, the exchange rate is approx. 135-140 yen to the US dollar and approx. 145-150 yen to the Euro.
Credit cards
International credit cards such as American Express, Visa, Diners Club, and MasterCard can be used at most banks, hotels, inns, and stores. Although not accepted at as many locations as these cards, China UnionPay can also be used. However, some stores do not accept any credit cards, so it is a good idea to have some cash on hand.
Cash advances (ATM)
Roughly 32,000 Japan Post Bank ATMs located throughout Japan, as well as over 26,000 Seven Bank ATMs installed in 7-Eleven convenience stores, offer cash advances for credit cards issued overseas. Most 7-Eleven convenience stores are open 24/7. Logos displayed on or near the ATMs indicate which credit cards can be used.
Tipping
It is not necessary to tip for service in Japan at places such as restaurants, bars, taxis, airports and hotels. However, hotels and some restaurants indicate an additional service charge on their bills or menus, respectively.
Cashless payment
In accordance with government policy, cashless transactions are promoted in large stores, restaurants, and shopping malls and can be used in many independent stores.
Free Wi-Fi
From cafés to train stations to airports, an increasing number of locations in Tokyo offer high-speed Internet connection via free Wi-Fi. Wi-Fi logos are displayed where services are available.
Japan Connected: Free Wi-Fi
Wi-Fi hotspot guide
http://www.ntt-bp.net/jcfw/use/index.html
TOKYO FREE Wi-Fi
Free Wi-Fi Guide
http://www.wifi-tokyo.jp/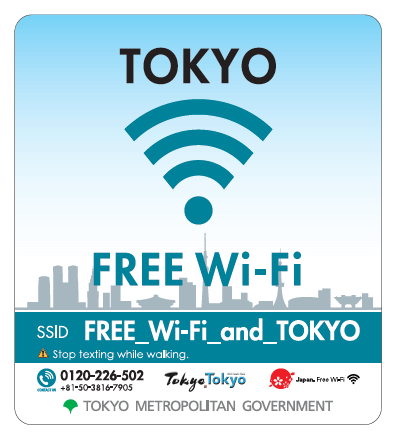 Electricity
Voltage in Japan is 100 V, while frequency varies by location: 50 Hz in eastern Japan including Tokyo and 60Hz in western Japan. A 2-flat-pin type socket is used.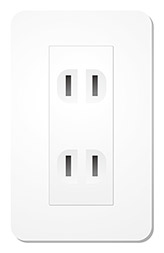 Smoking
In Tokyo, smoking is prohibited indoors at restaurants, drinking establishments, accommodations and other facilities used by many people, and only permitted in dedicated smoking rooms inside buildings (effective from April 2020). Smoking is also prohibited outdoors – on the streets and in parks in some areas of Tokyo. Please smoke in designated areas only.
Language
Japanese is the official language of Japan and English is widely spoken in Tokyo. Information desks at various facilities are often staffed with people who can speak English.
Visa
Japan has a visa waiver agreement with 69 countries and regions, under which delegates can enter the country for a short-term stay simply with their valid passport.(as of April 2nd, 2023)


For more information, please visit the website of the Ministry of Foreign Affairs of Japan:
https://www.mofa.go.jp/j_info/visit/visa/short/novisa.html
Countries and Regions Exempt from Visas
| Asia | Europe |
| --- | --- |
| Brunei | Andorra |
| Indonesia | Austria |
| Malaysia | Belgium |
| Republic of Korea | Bulgaria |
| Singapore | Croatia |
| Thailand | Cyprus |
| Hong Kong | Czech Republic |
| Macao | Denmark |
| Taiwan | Estonia |
| North America | Finland |
| Canada | North Macedonia |
| United States | France |
| Latin America and the Caribbean | Germany |
| Argentina | Greece |
| Bahamas | Hungary |
| Barbados | Iceland |
| Chile | Ireland |
| Costa Rica | Italy |
| Dominican Republic | Latvia |
| El Salvador | Liechtenstein |
| Guatemala | Lithuania |
| Honduras | Luxembourg |
| Mexico | Malta |
| Surinam | Monaco |
| Uruguay | Netherlands |
| Oceania | Norway |
| Australia | Poland |
| New Zealand | Portugal |
| Middle East | Romania |
| Israel | San Marino |
| Qatar | Serbia |
| Turkey | Slovakia |
| United Arab Emirates | Slovenia |
| Africa | Spain |
| Lesotho | Sweden |
| Mauritius | Switzerland |
| Tunisia | United Kingdom |
Getting There & Exploring the City
Transportation / Airport
A well-developed transportation network allows easy and convenient movement in and around the city, so you can come and go almost anywhere just by trains, subways or buses.
Average time to Key destinations from Airports
Getting around Tokyo
A network of train lines operated by JR East Japan and the subway lines of Tokyo Metro and Toei link stations around Tokyo. Symbols and signage at the stations are multilingual in English, Korean and Chinese. Train timetables are located on the platforms and are very reliable since trains in Tokyo run on time.
Suica and PASMO cards
Smart cards Suica and PASMO can be used on almost all rail and bus lines in the Tokyo metropolitan area, and are also accepted by a growing number of taxis. Suica IC cards are available for purchase at JR stations. Welcome Suica cards which require no deposit and expire in 28 days are also available. PASMO cards are available at subway, private railway stations or bus depots. You can also use these cards for shopping as electronic money at an increasing number of registered shops.

Suica
https://www.jreast.co.jp/e/pass/suica.html

PASMO
https://www.pasmo.co.jp/visitors/en/normalpasmo/
Taxis
In addition to queuing for a taxi at a taxi stand, you can also flag down an unoccupied taxi on the street by raising your hand. The taxi's rear left-side door will open for you automatically, so there is no need to open it for yourself. Fares are paid at the conclusion of the ride, but some taxis cannot accept smart cards or credit cards, so be sure to check before you get in.
Taxi fares
In Tokyo's 23 wards,  Musashino city and Mitaka city, taxi fares have been raised to reflect improvements in working conditions and an increase in fuel costs. The starting fare is now 500 yen for the first 1.052km, beyond which 100 yen is charged for each additional 255 meters.
Shopping & Eating
Shopping
There are countless opportunities for you to shop for beautiful and innovative products including exquisite green teas, traditional sweets, attractive lacquerware, textiles, fashion and state-of-the-art electronic products Japan is famous for.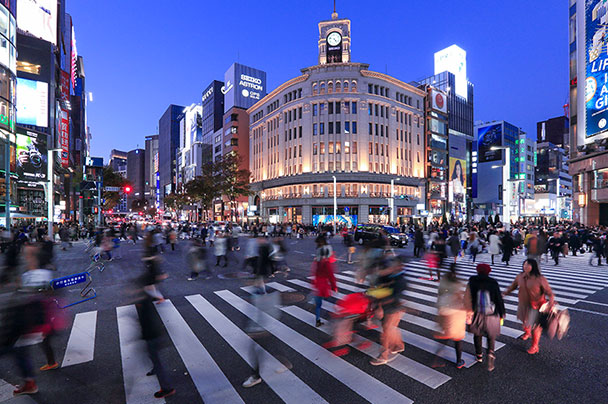 Eating
Washoku, or authentic Japanese cuisine, including globally popular sushi and tempura, has been designated by UNESCO as an Intangible Cultural Heritage. There are plenty of restaurants in Tokyo and the most Michelin stars in the world. The exquisite quality and variety of dishes, from washoku to world cuisine, make for an unforgettable experience. You can even try an Izakaya (local pub) for Japanese beer and yakitori (grilled chicken on a skewer) just as the locals do.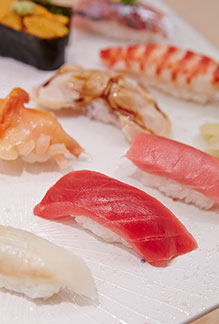 Things to Do & See
City Tour: Asakusa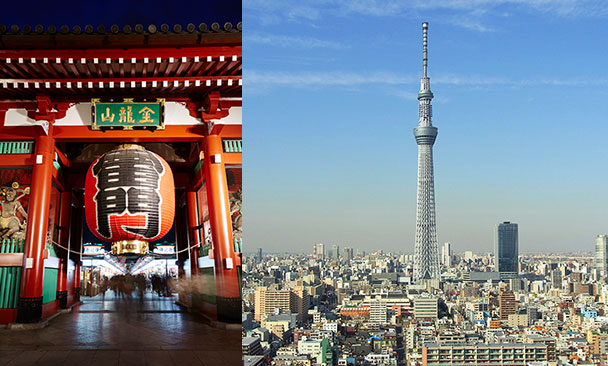 This location is home to one of the most popular tourist spots in Tokyo, Tokyo Skytree Town®, which has the world's tallest free-standing broadcast tower. The area around the tower is complete with shopping and entertainment facilities. In contrast to the cutting-edge tourist attractions, atmospheric Sumida and Oshiage are crowded with people enjoying the sights of shitamachi areas, the traditional commercial and working class neighborhoods of Tokyo. Just across the Sumida-gawa river is the district of Asakusa, where you will find the Kaminari-mon gate with its huge red lantern, and the Senso-ji Temple, both landmarks from the old days. Have a pleasurable experience shopping at the shopping streets including Nakamise, visiting sightseeing spots in a rickshaw, or enjoying the cherry blossoms during spring and fireworks in the summer.
City Tour: River Cruise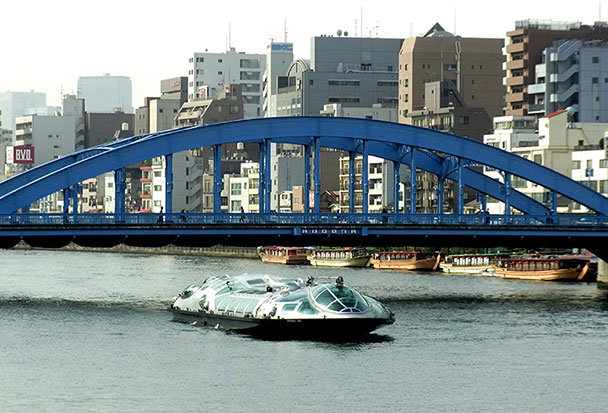 Tokyo offers a diversity of cruise types, from regular services convenient for sightseeing and traveling, to one-off services paired with seasonal events, and even yakatabune services featuring meals and shows. Select the ideal cruise to enjoy according to purpose or situation.
Cultural Program: Dress in Kimono/Yukata
Kimono, the beautiful national costume of Japan also called wafuku, literelly meaning "Japanese-style clothing," has won popularity beyond its birthplace. The garment is made with various materials, such as cotton and silk, and in different styles for different purposes, from formal to casual. Few people dress in kimono on a daily basis today, but the gown remains essential to traditional Japanese culture and is worn on special occasions like weddings and New Year celebrations. Yukata is a variant of the kimono made with a lighter fabric. The stylish gown comes in diverse colors, patterns, and materials. And compared to the kimono, it's easier to put on.
Both kimono and yukata give the wearer a taste of Japan. Although it's possible to dress yourself, professional services are available, too. It's worth creating the opportunity to have a photograph taken or stroll the streets of Tokyo wearing a kimono or yukata.
A Different Flavor of Cultural Program: Sake Tasting
Tokyo also has an exceptional variety of local Japanese rice wine brands, better known as "sake." For a real taste of Tokyo enjoy a sake brewery tour with sake tasting in Ome or Higashimurayama, in the western part of Tokyo. The sake brewery Ozawa Shuzo in Ome offers spectacular views of the surrounding mountains and valleys from its beautiful location. Sawanoi, one of their signature brands, is popular for its clean, crisp flavor and refined aroma. Toshimaya Shuzo is another well-known sake brewery in Higashimurayama, established in 1596. Their signature sake Kinkon, which has won numerous awards, is dedicated to Meiji Jingu and Kanda Myojin Shrines as their sacred sake.
Video Tokyo
Awaken your Senses